2009 D3 All-Americans, Players of the Year, Coaches of the Year Announced
The DIII News and Women's DIII News 2009 All-American teams were announced this week. The teams were unveiled in the special Postseason Review issue on March 25.
In Division III, NYU senior Jessica McEntee is the Women's DIII News Player of the Year. McEntee (below) was the UAA Player of the Year and led her team to the Sweet 16.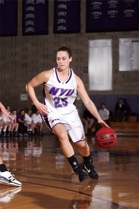 For the men, Wheaton (Ill.) senior Kent Raymond was named the DIII News Player of the Year. See the
men's
and
women's
2009 All-American teams.
Washington University head coach Mark Edwards repeated as the
Molten/DIII News Coach of the Year
, and George Fox head coach Scott Rueck captured the
Molten/Women's DIII News
award.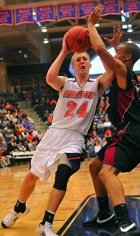 The Division II 2009 All-Americans will be announced next week.